This is what the car dealership of the future will look like. Photovoltaics, energy storage and especially electromobility are becoming increasingly important. Together with INTILION GmbH Autohaus Ehrhardt AG in Hildburghausen is taking an important step towards the energy transition  and is using a practical example to show what the car dealership of the future could look like.
Edge information:
Autohaus Ehrhardt in Hildburghausen has an operating facility for Volkswagen, SEAT, SKODA and Audi. In addition to this, it has already integrated its first e-bike stores. In 2020, they have independently begun to further expand the area of electromobility with PV systems, battery storage and carports.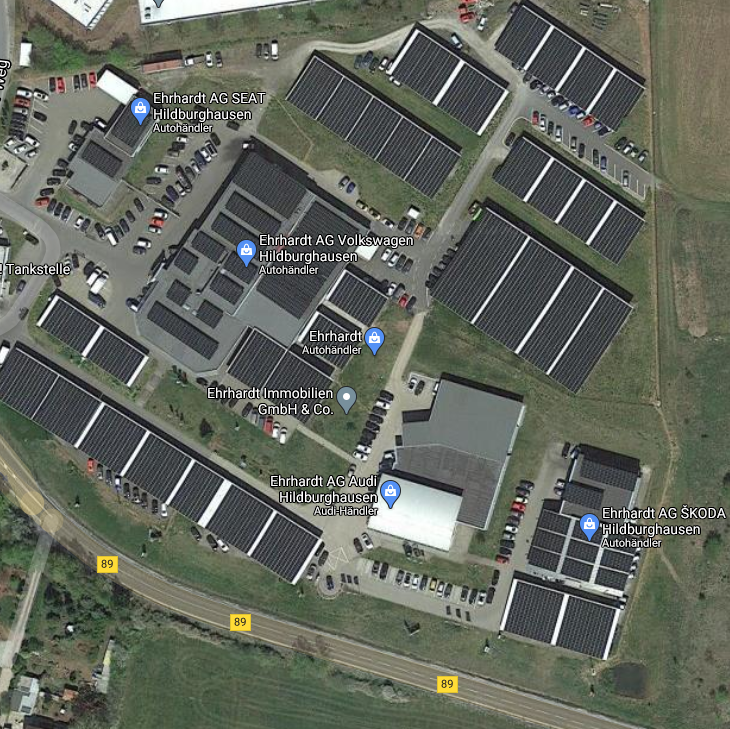 The project:
For the successful expansion of Autohaus Ehrhardt AG to the mobility turnaround, INTILION supplies 2x2x75 kW Alpitronic Hypercharger, 5x 22kW AC charger, 1x PV system with 200 kW, 6x INTILION I scalebloc commercial storage in the 1C variant with 60 kW and 68.5 kWh, as well as a grid connection cabinet including energy management system (EMS). The EMS is used to control all loads and generators of the plant.
The efficient energy storage system can reduce the load peaks of the operation and increase the self-consumption. The integrated EMS ensures fault-free operation of the charging stations and battery storage through automated control.
Added value:
With our battery storage systems, Autohaus Ehrhardt AG receives a reduction in the power price and a substantial as well as time advantage. Extensions of grid connections can thus be carried out more quickly. In addition, with the help of the PV systems, there is a saving through self-consumption.
With this expansion, Autohaus Ehrhardt AG can serve the emerging electromobility market without any problems and offer a service that will also gain even greater relevance for decades to come. This means for Autohaus Ehrhardt not only high cost savings, but also a significant competitive advantage.