Safe and secure solutions for tomorrow's energy – anytime, anywhere!
We stand for future-ready, sustainable energy storage solutions, with a special focus on system-relevant and critical infrastructure such as commerce, municipalities, industry and energy networks. Our goal is to provide clean and reliable storage for power from renewable and sustainable energy sources – so that the world can use it for a secure power supply and e-mobility charging infrastructure.
installed energy storage systems
contracted
service technicans
Full Power from Paderborn, Germany
Our head office is located in Paderborn, Germany. With the most wind turbines per square mile in the entire state of North Rhine-Westphalia, our region is at the forefront of the energy transition.
Paderborn's choice location in the heart of Germany ensures outstanding connections to major metropolitan areas throughout Europe. On top of that, Paderborn University is the driving force of research and innovation at the city's core.
Our location in Paderborn is featuring a modern, centrally located office building with loft-like spaces and a co-working area for external consultants.
Empowering the world for renewable energy
We drive the future energy industry with the sole use of clean and renewable energy. As a pioneering force in the energy transition, we leverage intelligent energy storage solutions to provide sustainable and stable grid infrastructure that helps ensure a reliable power supply for businesses, the public sector, and strong e-mobility infrastructure.
Dr. André Haubrock
CEO | Management Board
Dr.-Ing. Electrical Engineering, MBA
15 years of lithium-ion battery expertise
11 years HOPPECKE of which 8 years in managerial positions
Dirk Engel
CFO | Management Board
Dipl. Economics
25 years of experience at technology companies
15 years of Group-CFO experience at Technotrans SE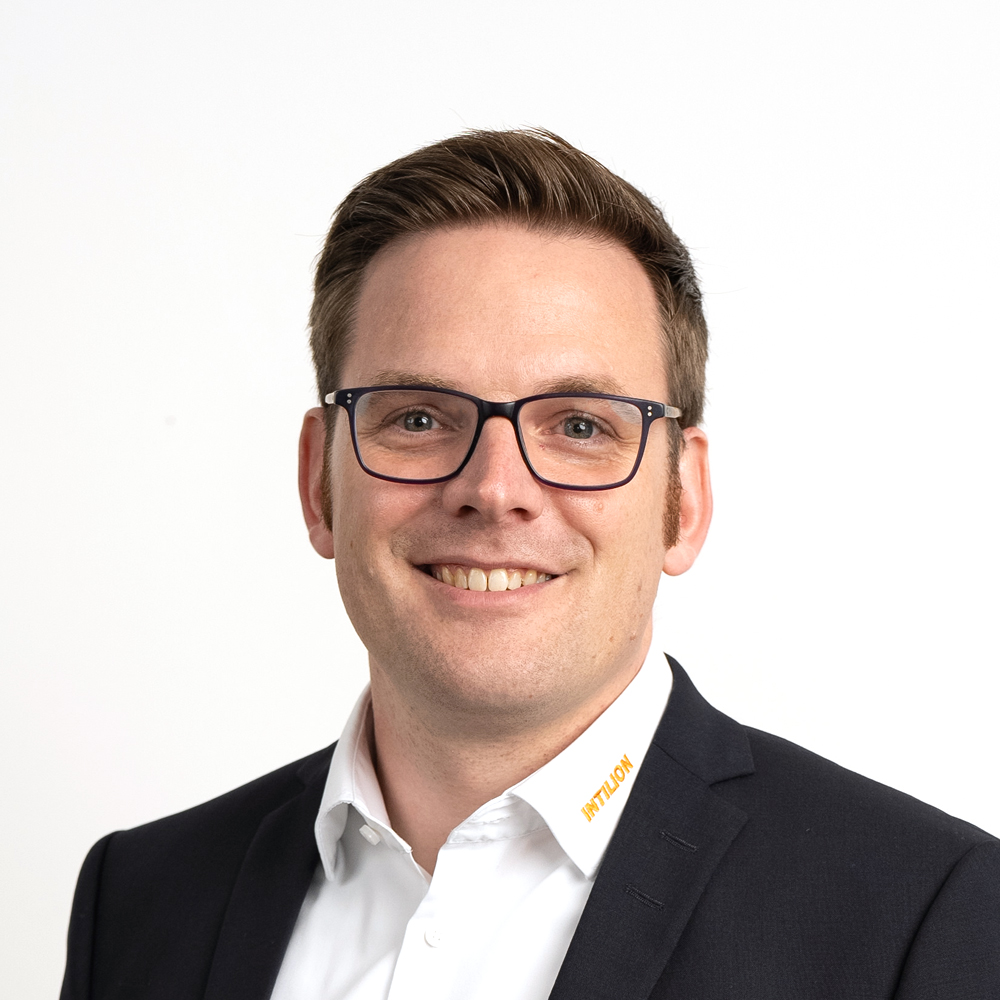 Philipp Knaup
COO | Senior Executive
Dipl. Economics
12 years management experience in supply chain, logistics and business development
5 years managing director of a subsidiary of the BayWa AG
Boris Langerbein
CINO | Senior Executive
Dipl. Power Engineering
20 years of market experience
5 years Head of Marketing
3 years Director IN.hub
Manuel Schmidt
CSO | Senior Executive
Dipl. Industrial Engineering
16 years of market experience at Spelsberg, WAGO and VIVAVIS (IDS) of which 7 years in managerial positions
Our five corporate values
Our five corporate values are the heart and soul of our company. Every day, our teams embrace and embody them when working with our partners and stakeholders. These values represent the things that are the most important to us and guide our actions at every turn.
Energy storage is in INTILION's DNA
INTILION was spun off of the HOPPECKE Group in 2019 to pool the company's lithium-ion activities under a single roof and advance the energy transformation with stationary storage systems. Through its parent company, INTILION has access to more than 95 years of experience in premium-quality electrochemical energy storage for industrial applications.
Let us be the strong partner on your side. From developing, installing, and servicing the perfect energy storage solution all the way through to environmentally friendly and professional recycling through certified recycling partners, you'll get everything you need from a single source – all backed up by our capable project management team and partner network. Our sights are squarely set on meeting the highest quality and industry standards, as well as the latest safety criteria.
All of our storage system components are assembled in Germany to create high-quality energy storage systems. The finished systems are delivered from Germany to our customers throughout Europe.
INTILION means tailored and digital solutions
Our modular INTILION | scalestac, scalebloc, and scalecube energy storage systems cover a full range of applications for opti-mum energy storage for commerce, industry, and grid infrastructure. Battery storage capacities range from roughly 70 kWh to 100 MWh. Every storage system is cloud-ready for constant performance monitoring. Data analysis makes it possible to identify unused storage capacities and balance out peak demand and peak loads, helping avoid power outages and ensuring a constant supply of electricity. The resulting data sets also let you forecast the expected remaining service life of the storage system.
INTILION means safety
The safety of our products and solutions is our top priority. Thanks to our innovative battery cell energy management technology and our comprehensive fire protection concept, all of our products meet the relevant standards, making them exceptionally safe in use. Our special storage rack system featuring a safety enclosure is the gold standard in the industry. What's more, we test our systems thoroughly at our in-house labs in Paderborn. To make sure we keep responding quickly and providing you with optimum service in the future, we perform ongoing research on new innovations.
You want to be part of our team?