Increase your productivity emission-free with us
Standardised and customised solutions for intralogistics traction applications
We offer you a variety of application areas
› PRODUKTIVITY OPTIMISATION
With our customised lithium-ion battery systems, you can concentrate completely on your core business.
Your productivity increases because you don't have to change batteries and maintenance work is reduced to a minimum. Our battery systems enable shorter charging times and intermediate charging at any time. All this and a ~30% higher efficiency compared to lead-acid batteries lead to reduced vehicle downtimes and thus ensure higher vehicle availability.
In addition, maintenance and energy costs are reduced. There is also no need for charging rooms or battery changing stations, thus saving further costs.
› EMISSION-FREE

You work in the food sector, in the pharmaceutical industry or in closed rooms and need emission-free and reliable power drives? Our lithium-ion batteries are mechanically encapsulated and therefore absolutely emission-free. This means that there is no danger of outgassing, electrolyte leakage or corrosion.
› RETURN ON INVESTMENT

Together with you, we determine your individual requirements portfolio and the technically optimal solution associated with it. In that case, we take into account all costs incurred over the battery life. In this way, we determine your individual Return on Investment (ROI).
We guarantee a fast ROI by optimal design of the batteries for your application as well as a longer battery life. This is achieved by low maintenance costs, decentralised charging with short access routes and low energy consumption.
Our
for every application
The new modular generation of LiOn energy systems includes lithium-ion traction batteries for a variety of applications – specially adapted to your needs. Thanks to our individually configurable tray system, our drive systems are highly flexible and can therefore be used quickly – even for vehicles, whether new or used, which are not intended for replacement by the manufacturer. Thus we offer you a perfect system solution for your individual requirement profile.
Depending on your application profile, you can choose from a wide range of lithium-ion traction batteries with integrated battery management system (BMS) and multiple interfaces:
Almost all vehicles can be converted
With the help of our innovative adapter tray, almost all vehicles can be converted for the use of lithium-ion batteries.
Short charging times and highest possible efficiency
Our chargers are optimally designed for short charging times and guarantee the highest possible efficiency when charging your battery via CAN communication with the battery management system.
HOPPECKE-Cooperationservice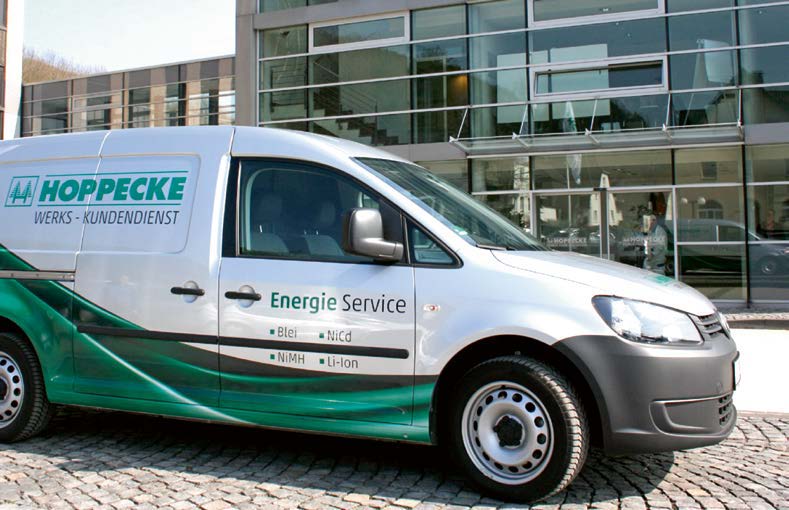 Your satisfaction is our top priority. This is why we not only offer you an attractive product portfolio, but also a comprehensive service in cooperation with the HOPPECKE Service GmbH & Co.KG. Our service is global and broad-based and consists of experienced employees with many years of experience. From the first consultation to the full service, we are optimally positioned for you.
Furthermore, our consulting concept includes the following points:
We give you the energy you need.
You need further information?
Why should you choose us?
We offer you more than standard
We already meet tomorrow's safety standards today. For this reason, our batteries guarantee maximum functional safety at all times and everywhere. We always pay attention to the highest quality of all components in our systems and thus guarantee you maximum operational safety. Our lithium-ion traction batteries are developed and manufactured exclusively in Germany. We obtain all installed lithium cells from renowned manufacturers and continuously check them for quality and service life. Our extensive quality controls ensure reliable operation over many years.
Our batteries are featured with an innovative and intelligent battery management system (BMS). The BMS continuously monitors the current, voltage and temperature of the battery. Thus it protects the battery from deep discharge and always keeps it in an intrinsically safe state. It is also possible to store the batteries in any state of charge for up to six months without recharging. By recording all relevant parameters over the entire battery life, the BMS enables the analysis of potential faults on the one hand and predictions over the service life on the other. In this way, we constantly improve them for you and make recommendations for optimized use.
The three times longer battery life reduces the need for replacement. The significantly higher efficiency compared to lead-acid batteries increases energy efficiency, reduces CO2 emissions and reduces your energy costs by up to 30%. At the end of the battery's life, we ensure that it is disposed of professionally and in compliance with the law. During disposal, 88% of the battery in Germany is recycled.
Comfort Charging is our latest innovation in the field of intelligent battery charging. With Comfort Charging, the necessary coupling processes are reduced to a minimum and you save valuable time. With the help of a separate charging plug, intermediate charging is possible at any time without any problems. We offer you the only solution available on the market with a standard charging plug that meets all functional safety requirements. In addition, this concept developed by us ensures that your vehicle is reliably disconnected from the battery power supply during the charging process.
Do you have any questions?
Or would you like an individual offer? We look forward to your message.
Location Zwickau
Dr.-Sinsteden-Straße 8
08056 Zwickau
Location Paderborn
Wollmarktstraße 115 c
33098 Paderborn
Copyright - INTILION GmbH