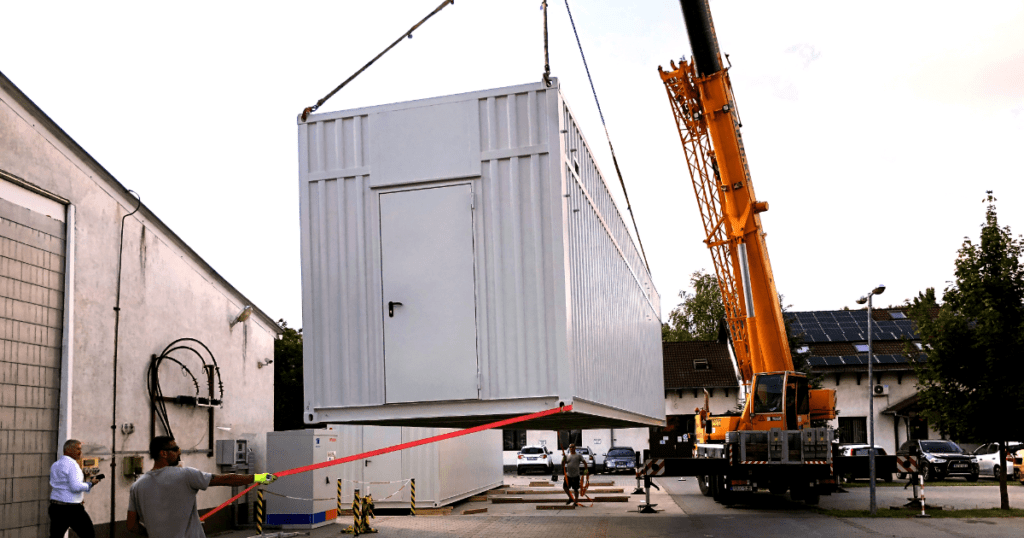 With large storage against voltage fluctuations
Thanks to the renewed cooperation with our project partner INFOWARE Zrt. another large-scale INTILION storage facility was installed in Hungary.
The large-scale storage facility INTILION | scalecube stabilises grid voltage fluctuations at the Hungarian distribution grid operator NKM near Földeák.
Due to the new climate protection and energy strategies, more and more PV solar power plants are being built in Hungary. However, the PV solar power plants operated in the NKM area repeatedly caused voltage fluctuation problems in the grid. To compensate for these, NKM issued a public tender for the construction of a lithium-ion energy storage system. INFOWARE was able to successfully win this tender and is again relying on INTILION battery system technology.
In order to maintain safe and reliable grid operation in Hungary and to minimise voltage fluctuations, INTILION is supplying a large-scale storage system with battery modules in a fire-proof rack with smoke extraction, air conditioning and the lithium-ion battery with approx. 1.7 MWh and control unit. The entire energy management system was planned and installed by our project partner INFOWARE. The developed local EMS controller will perform ten different solutions to improve and stabilise NKM's grid parameters in its medium voltage grid.
The storage project is located on a large animal farm. For this reason, fire protection and the mechanical concept, including filtering, were given particularly high importance in the planning of this project.
Safety and reliability in fire protection and in all other areas is a top priority for INTILION. We are therefore all the more proud that, together with our partner INFOWARE, we have once again succeeded in equipping Hungary with a safe battery storage system.
This might also interest you: