In the full version of the INTILION | scaleblocs installation video, we provide you with comprehensive step-by-step instructions for the successful installation and assembly of our system.
You will primarily receive information on tool preparation, protective equipment and important safety instructions. In addition, we will show you how to select an optimum installation site for your system.
The step-by-step instructions also include all important steps for installation and assembly, starting with the unloading of the system and ending with successful commissioning and networking. You will learn how to position and fasten the INTILION | scalebloc and its components, insert and wire battery modules and establish a mains connection.
Have a look at the trailer for our assembly video of the commercial storage.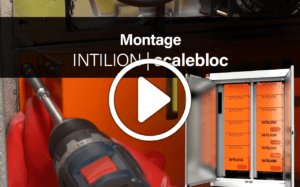 If you are interested in the complete assembly video, please send us a message. We will then send you the access data.
---
Note:
We must point out that despite the simplicity of the installation and assembly of our system, only personnel trained by us or by certified partners is authorised to carry out assembly and installation.